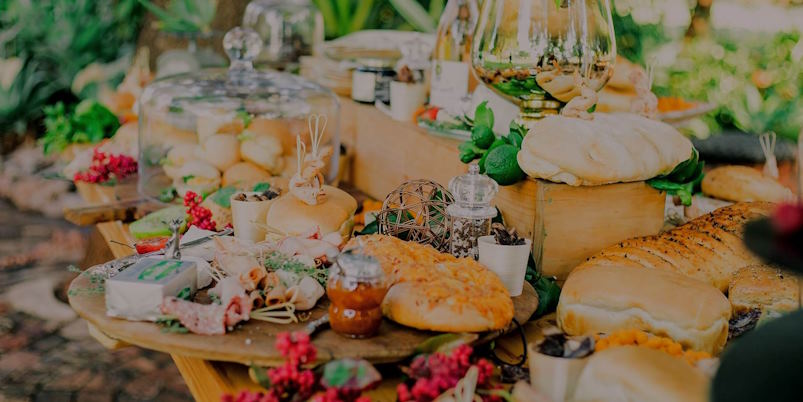 Planning a wedding menu that delights your guests and leaves a lasting impression is important in creating a memorable wedding experience. From appetizers to desserts, here are some ideas for a delicious dining experience on your special day:
Appetizers
Gourmet Cheese and Charcuterie Board
Create an impressive display of assorted cheeses, cured meats, crackers, bread, and various accompaniments like olives, grapes, and honey. Include a selection of both soft and hard cheeses for a well-rounded cheeseboard.
Miniature Caprese Skewers
Skewer cherry tomatoes, mozzarella balls, and fresh basil leaves. Drizzle with balsamic glaze for a bite-sized and refreshing appetizer.
Smoked Salmon Canapés
Top bite-sized toasts or blinis with smoked salmon, cream cheese, and dill for an elegant and flavorful starter.
Main Course
Herb-Crusted Filet Mignon
Serve tender filet mignon topped with a flavorful herb crust. Accompany it with roasted seasonal vegetables and garlic mashed potatoes or truffle-infused risotto.
Grilled Salmon with Citrus Glaze
Offer a lighter option with grilled salmon filets glazed with a tangy and refreshing citrus sauce. Serve alongside a medley of grilled vegetables or a citrus-infused quinoa salad.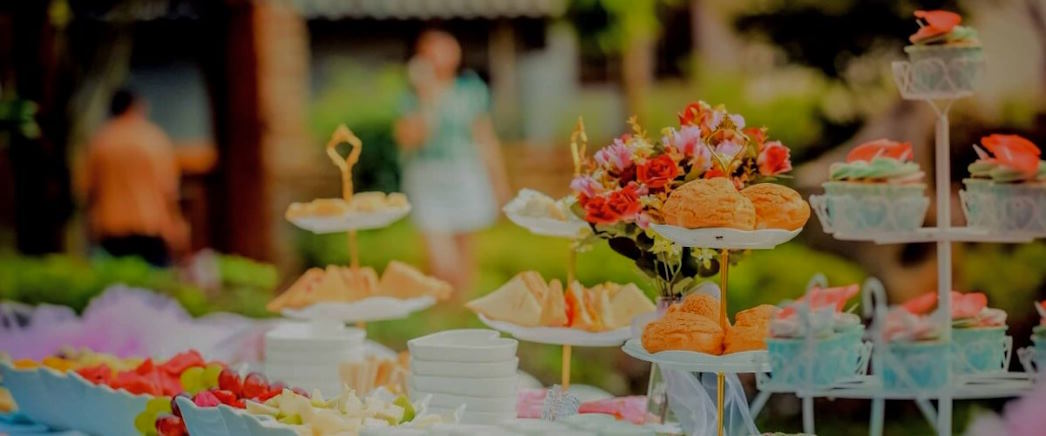 Vegetarian Stuffed Bell Peppers
Create a vegetarian delight with stuffed bell peppers filled with a flavorful mixture of quinoa, roasted vegetables, and feta cheese. Serve them with a side of mixed greens or a light herb salad.
Chicken Marsala
Impress your guests with chicken marsala—a classic Italian dish featuring tender chicken breasts cooked in rich marsala wine and mushroom sauce. Accompany it with roasted baby potatoes or creamy mashed potatoes.
Desserts
Miniature Dessert Bar
Create a dessert bar with bite-sized treats. Offer mini cupcakes, macarons, chocolate truffles, and fruit tarts for guests to enjoy a variety of sweet indulgences.
Decadent Chocolate Fountain
Set up a chocolate fountain with dipped strawberries, marshmallows, pretzels, and biscotti. It's a fun and interactive dessert option that will delight guests of all ages.
Assorted Mini Pies
Offer a selection of mini pies with flavors like apple, cherry, and pecan. Serve them with a scoop of vanilla ice cream or a dollop of whipped cream for a comforting and delicious dessert.
Customized Wedding Cake
Work with a talented pastry chef to create a customized wedding cake that reflects your style and taste. Choose flavors and designs that are meaningful to you as a couple. Opt for unique cake flavors like lavender-infused sponge cake or matcha-flavored tiers for a twist on tradition.
Don't forget to consider dietary restrictions and offer vegetarian, vegan, and gluten-free options to accommodate all guests. Collaborate with your caterer or wedding planner to curate a menu that reflects your personal preferences and complements the overall theme of your wedding.
Creating a special wedding menu ensures that your guests have a culinary experience that reflects your love and celebration. Delight their taste buds with delicious appetizers, an impressive main course, and delectable desserts, making your wedding day unforgettable.